Childhood is often considered the best time of an individual's life. Associated with a care-free sensibility and known as a time for discovery, childhood sets the foundation for lifelong learning, behavior, and health – mental health included.
Many factors such as genetics, environment, events, brain chemistry, life experiences, and unhealthy habits affect a child's mental health. As a nation we've encountered a great deal of uncertainty, stress, fear, and grief within the last year. While COVID-19 has presented its challenges, it has help to shine light on our youth's mental health.
Why is Children's Mental Health Important?
Mental health is critical to overall health. Mental health encompasses emotional, psychological, and social well-being. It often affects the way one thinks, feels, and acts. In addition, it determines how an individual handles stress, relates to others, and makes choices.
The mental health of a child is vitally important as it affects the way they function at home, school, and in the community. A child with a mental health disorder may encounter delays in development and emotional milestones, as well as disruptions in learning healthy social skills and impaired or undeveloped coping skills. According to Children's Mental Health Network, about 20 percent of children suffer from a mental health or learning disorder. Even more alarming is that nearly two-thirds of children that have a diagnosable mental health problem receive little to no help. In addition, the likelihood of an undetected childhood mental health disorder to appear in adolescences or adulthood is very high. While 80 percent of mental health disorders begin in childhood, only 50 percent begin before the age of 14 and 75 percent before the age of 24.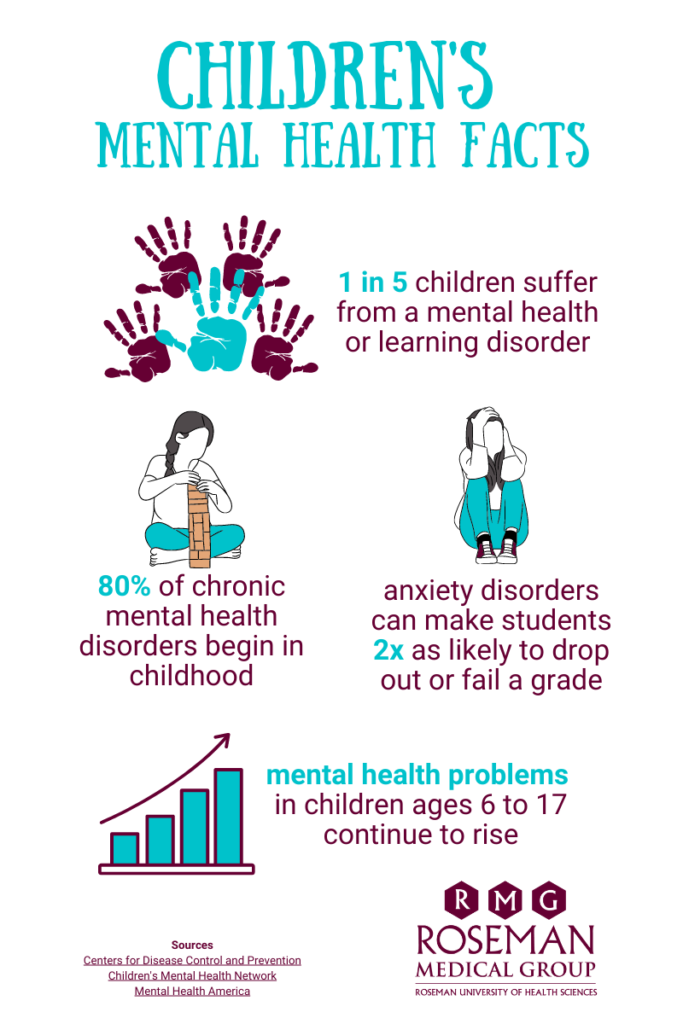 Mental Health During COVID-19
COVID-19 has created uncertainty, grief, fear, stress, and worry for many children. At the onset of the pandemic, children's routines were disrupted as the nation went into lockdown. School and social interaction was drastically impacted as children were moved to virtual learning and asked to socially distance from friends and family. Amid the pandemic, many children missed rites of passage­­ such as graduations or birthdays, as well as other life events, such as family vacations or sporting events. As the pandemic continued through the holiday season many children may have been impacted by the change of traditions, loss of loved ones, or financial hardships of their families.
Although the complete impact of COVID-19 on U.S. children is still unknown, it's important to note that even before the pandemic hit, mental health problems in children ages 6 to 17 were on the rise, according to the Centers for Disease Control and Prevention. Therefore, it's important as caregivers, parents, teachers, family members, and doctors to identify possible warning signs during COVID-19 and beyond.
Mental Health Problem Warning Signs in Children
It can often be difficult to identify mental health problems in children because normal childhood development is ever-changing. In addition, warning signs can vary by age and younger children may not be able to explain their feelings or why they are behaving a certain way. It's important to be aware of the warning signs that your child may be struggling as you play a critical role in knowing when they may need help.
Mental Health America has indicated that the following signs may indicate the need for help from a health care professional:
Decrease in school performance
Poor grades despite strong efforts
Persistent worry or anxiety
Repeated refusal to attend school or take part in normal activities
Hyperactivity or fidgeting
Constant nightmares
Continual disobedience or aggression
Frequent temper tantrums
Depression, sadness, or irritability
Attempts or thoughts of suicide
Additionally, it's important to pay particular attention if your child experiences difficult situations. These situations can be hard for your child to understand on their own:
A major transition – new school, new home, etc.
Divorce or separation of parents
Loss of a loved one or someone close
Traumatic life experience – living through a natural disaster, etc.
Bullying or teasing
Difficulties in school
If your child has thoughts of suicide or attempts suicide seek help immediately. Suicide is known as the second leading cause of death for people 10 to 34 years of age, according to the CDC. As children navigate difficult situations – such as COVID-19 – the suicide risk increases. The Clark County School District in Las Vegas, NV alone has seen a large increase in youth suicides as the pandemic has unfolded. According to Nevada Public Radio, since the shutdown in March 2020, 19 children have died by suicide with 13 of those occurring after July 2020.
Ways to Support Your Child's Mental Health
While all mental health issues can't be prevented, there are ways to help keep your child as mentally healthy as possible during the COVID-19 pandemic and beyond.
Talk with your child about the pandemic – answer questions and share facts in a way that is understandable
Reassure your child that they are safe and it's okay to feel upset – share helpful ways in which you deal with your own stress
Limit their exposure to news coverage and social media associated with COVID-19 – limiting misinterpretation and fear associated with things they may not understand
Try to stick to regular routines as much as possible
Be a role model – take breaks, exercise, eat and sleep well, and connect with friends and family even if it's via phone, video chat, or mail
Spend time together doing meaningful activities such as readding, exercising, or playing board games
Build trust by meeting your child's physical and emotional needs
Foster healthy relationships with family and friends
Be consistent – children crave predictability and structure
Teach stress management and proactively identify specific things your child can do to keep their stress levels at bay
Establish healthy habits – diet, sleep, and exercise are essential to physical and mental health
Help your child develop their self-esteem
Take time to play together – laugh and create memories
Watch for red flags and seek professional help if you notice any of the warning signs mentioned in this article
Continue to be proactive about keeping your child as mentally healthy as possible. As a caregiver, you play an important role in your child's mental health. If you have concerns about your child's mental health, contact their healthcare provider. Your child's social and emotional health is vitally important to their lifelong wellness.
As a parent or caregiver your mental health is important as well. If you have concerns with your own mental health, the healthcare providers at Roseman Medical Group are here to help. Schedule an appointment with one of our providers by calling 702-463-4040.
For immediate help in a crisis contact the National Suicide Prevention Lifeline at 1-800-273-8255 (en espanol: 1-888-628-9454) or the Crisis Text Line by texting HOME to 741741.
Article by Kristine Campo