Hot summer days call for cool Summer food! Summer cooking is an optimal time to welcome healthier, lighter cooking into your home and in your backyard. Summer eating surely brings back memories of Summer's past, of children eating popsicles, fresh watermelon, corn on the cob, peaches and plums, and burgers and dogs on the grill. Warmer weather can dampen our appetites too, making lighter food more enjoyable and easier to digest. Fresh produce is in abundance in the summer and local Farmer's Markets offer fresh, healthy vegetables and fruits that are often less expensive than traditional grocery stores. For a list of Southern Nevada's local Farmer's Markets, click here. With all of your purchases, try some of these healthy recipes that are easy and inexpensive to make.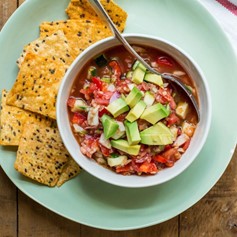 Nothing says summer like a cool Gazpacho, which is said to have originated in the southern regions of the Iberian Peninsula. It is widely eaten in Portugal and Spain, particularly during the hot summers, as it is refreshing and cool, while savory and satisfying. Check out this recipes from Delish.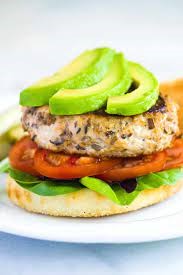 Turkey burgers can offer a leaner alternative to burgers made with pork or beef. They can also be made with almond flour in place of breadcrumbs to create a gluten-free option. Grated parmesan can make lean burgers moist and rich. Turkey burgers can get tough if overworked. So, make your patty once and take tender and misshapen over tough and perfectly round.  Turkey burgers can be served in lettuce leaves, with toppings of avocado, tomatoes, cucumbers and greens. Throw eggplant, zucchini, onions on the grill alongside your burgers for a simple dinner. Check out the allrecipes version.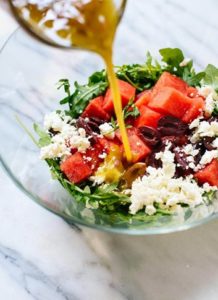 Watermelon is often thought of as a cool conclusion to a meal, but it can take front and center as the main item on the dinner menu with the addition of bitter greens and salty feta cheese. Any olives will do, though this recipe calls for Kalamata Olives.
Finally, summer is only actually summer when ice cream or sorbet has been eaten. Sorbets offer a lighter version with less fat and sugar, with real fruit as its base. Use any berry, peaches, plums or even fresh melons. You don't need an ice cream machine with this simple recipe. Enjoy the process and enjoy the end product. Click here for sorbet recipe.
Roseman Medical Group wishes you a wonderful summer with healthy eating and time with family and friends!
Article by Vanessa Maniago
Roseman Medical Group provides quality, empathic, patient-centered care. Our primary care providers are dedicated to your health and well-being. Contact us at 702-463-4040 to schedule an appointment.