Vaccines are one of the most cost-effective and successful interventions against infections invented to keep people healthy. Our body has elaborate mechanisms to fight off infections caused by pathogens. These mechanisms, collectively known as our immune systems, "remember" how they fought off prior pathogens and remain ready for future infection. A vaccine may contain parts of the pathogen, killed whole pathogen or genetic materials from the pathogen. Several vaccines for Corona Virus Infectious Disease 2019 (COVID-19) are being developed using genetic material from the Severe Acute Respiratory Syndrome-2 (SARS-2) virus that causes COVID-19.
Vaccination teaches/stimulates our immune system (immune response) and builds immune memory without causing the infection. We develop antibodies, and other defense molecules via activation of white blood cells through vaccination which then neutralize the pathogen upon infection and in most cases, prevent illness. The threat of infection is reduced when a significant majority of the population are vaccinated to develop "herd immunity", thus reducing the ability of the infection to spread in the community.
Development of COVID-19 Vaccine
As Phase 3 clinical trials of COVID-19 vaccine candidates are underway this fall, questions are raised about the development, safety and approval process of vaccines. Vaccine development is often a very long and daunting process that takes about 10 years on average from beginning to end. It requires scientists to find the right formulation that would trigger a robust, yet safe immune response. This careful process of vaccine development and approval is necessary to ensure public safety.
Once a candidate vaccine has been identified, it goes through a rigorous process of testing in human volunteers known as clinical trials. Clinical trials must be long enough to show not only that there is an adequate immune response that protects the individual, but also that immunity is long-lasting, and is safe. Typically, the efficacy and safety of the vaccine are studied in thousands of human volunteers in phase 3 clinical trials with oversight from the Food and Drug Administration's (FDA) Center for Biologics Evaluation and Research (CBER).  CBER reviews clinical trial data to do a risk/ benefit assessment to recommend or oppose the approval of a vaccine. A non-FDA expert committee on Vaccines and Related Biological Products Advisory Committee (VRBPAC, a panel of scientists, physicians, biostatisticians, and a consumer representative) also reviews the findings and advice of CBER regarding safety, efficacy, benefits and risks of the vaccine. Only with proper recommendation (from CBER and VRBPAC) will a new vaccine be released to the public. According to FDA criteria, at least half of vaccinated individuals must be protected in order for a COVID-19 vaccine to be considered effective.
Even after release of a vaccine, the Centers for Disease Control and Prevention (CDC) will continue to monitor and oversee the vaccine safety using the Vaccine Adverse Event Reporting System (VARES).
Although vaccines are drugs, their development is fundamentally different than a traditional drug. Vaccine clinical trials are done in non-infected, healthy subjects to determine immune response, but a drug clinical trial recruits patients with the disease to test its efficacy.
COVID-19 vaccines are being developed on a "fast-track" basis, and currently ~over 240 different vaccine candidates are in various stages of development worldwide. Of these, roughly ten formulations are the front runners and have advanced to Phase 3 trials in human volunteers. The majority of these formulations are based on the genetic material of the Coronavirus, ribonucleic acid (RNA), and would require two doses approximately three weeks apart.
Due to the urgent need for a COVID-19 vaccine, some vaccines are already being produced in large scale concurrently as we await final approval and Emergency Use Authorizations (EUAs) decisions by CBER. Therefore, once approved, the/se vaccine/s will be quickly distributed to the public following the CDC guidance and priority list. Although difficult to predict, the most optimistic timeline for release of the first batch of COVID-19 vaccines is within the next several months. The "fast track" approved vaccine/s will be administered to people following a "framework for equitable allocation". Most experts think that a vaccine is likely to become widely available by mid-2021. While the race towards the vaccine continues to the finish line, "vaccine hesitancy" in certain U. S. populations could be a barrier to defeating the pandemic. Building public trust and confidence in COVID-19 B vaccine is necessary to win over the pandemic.
Article by Dr. Manas Mandal, MSc, PhD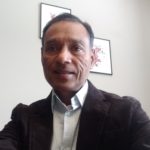 Dr. Mandal specializes in teaching, and research in immunology. He earned his Bachelor of Science and Master of Science degrees in Human Physiology from the Calcutta University, India and his Doctor of Philosophy in Science from the Jadavpur University, Calcutta. He completed post-doctoral trainings in cellular immunology at the Gwen Knapp Center for Lupus and Immunology Research, University of Chicago, and in vaccine delivery at the University of Michigan, College of Pharmacy. Dr. Mandal held research faculty positions at the University of Michigan, and Virginia Tech. At Virginia Tech, he was involved in bio-defense research in Tularemia. Currently, he is an Associate Professor of Pharmaceutical Sciences at the Roseman University College of Pharmacy where he teaches courses in Hematology & Immunology.
Dr. Mandal has presented his research at national and international scientific meetings in pharmaceutical sciences, immunology, and pharmacy education. He has served the American Association of Colleges of Pharmacy (AACP), National Association of Boards of Pharmacy (NABP), Accreditation Council of Pharmacy Education (ACPE) and American Association of Pharmaceutical Scientists (AAPS) in various capacities serving on committees, reviewing grants, abstracts, judging posters, writing items and performing accreditation site visits.
Dr. Mandal was awarded a Fulbright Specialist appointment with the US Department of State's Bureau of Education and Cultural Affairs (ECA) and World Learning in 2019 with a three-year tenure. He also served as an editor for the Microbial Toxins in Handbook of Toxinology, Springer in 2015-2017, and contributed a chapter. His current research interest includes salivary biomarkers, anti-inflammatory properties of natural products, and student knowledge retention. Dr. Mandal is a member of the AACP, AAPS, and American Association of Immunologists (AAI) & American Association of Advancement of Science (AAAS).