Thanksgiving is approaching and the days are getting shorter. The air has a fresh chill that is at times energizing and is at times more conducive to pulling up a warm blanket and reading a book or watching TV with a warm cup of tea or coffee. As with so much in 2020, Thanksgiving is likely to be different than in any other year; getting in the holiday spirit will take some creativity! Holiday decorations are out in the stores, but many people are doing less in-person shopping and so are missing the pumpkins, scarecrows, and lighted trees that appeared even when it was still 90 degrees outside. Now, with the cooler weather and Thanksgiving on the way, my thoughts are turning toward holidays that represent family, friends, comfort, and cheer to so many of us. How will Thanksgiving be different this year?
As I write this in late October, coronavirus cases are increasing in much of the US, and concerns are being raised about winter and flu season. People are more reluctant to travel and are worried about possibly exposing others, especially elderly family members. Financial concerns are stressing many beyond what they ever anticipated. And for those who have lost family members this year, whether to Covid-19 or other causes, sadness will accompany celebrations. Gatherings are more complicated as people try to decide – should family get together? Should we isolate? Should we fly or drive? Or Zoom? How can my loved ones and I stay safe?
Mental Health Misconceptions
All these holiday decisions can increase stress beyond what people may typically experience in bringing family together, when the biggest worry might be getting a big meal on the table with perfect timing while navigating family dynamics. But generally speaking, do the holidays increase stress, anxiety, and depression? There is a common misconception that depression and anxiety increase during the holidays, and that suicide rates go up. National data indicates the opposite; in past years that have been studied, rates have gone down over the winter holidays. That does not mean, however, that everyone experiencing stress or isolation will feel better during the holidays; in fact, some people may feel worse. With the changes brought about by the coronavirus this year, mental health professionals are seeing an increase in stress and in symptoms of anxiety and depression. As a psychiatrist, I am very aware that increased stress can exacerbate symptoms of depression or anxiety, particularly for someone who is already dealing with a mental health condition. I also know that family support, focus on gratitude, and the holiday spirit of Thanksgiving can give people a needed break from the stressors they are facing.
What do I mean by depression? A healthcare professional such as a psychiatrist, psychologist, or primary care provider may make a diagnosis of major depression if a person has experienced, for more than two weeks, depressed mood or loss of interest, and difficulty with several aspects of life including sleep, appetite, energy, concentration, and feelings of guilt. Other mental health conditions, such as generalized anxiety disorder, panic disorder, and posttraumatic stress disorder, can also be exacerbated by depressive symptoms. But even without all the symptoms of major depression, people can experience adjustment symptoms of depression or anxiety that can be overwhelming. Feelings of helplessness, hopelessness, or worthlessness can seem unmanageable. If you are feeling depressed or suicidal, please reach out to your health care provider and/or the hotlines available in the excellent resource "Coping with Stress" created by the Center for Disease Control and Prevention (CDC) accessible at https://www.cdc.gov/coronavirus/2019-ncov/daily-life-coping/managing-stress-anxiety.html. Our healthcare providers at RMG are available to help!
Writing a blog about stress during the holidays is challenging because each person's experience is so individual. I encourage you to create some joy and cheer this Thanksgiving, whether by video call or in person, whether alone or with others, whether there are new stressors that make it difficult to do so or not. Think about those you love; we are all in this together, and with friends, neighbors, family, or sympathetic strangers, we will find a reason to give thanks. People will make individual choices about whether to travel or gather; let us all try not use differences of opinion about those choices to drive us apart, but rather provide information when useful and proceed with respect. Go outside, take a walk, carve a pumpkin, talk to family and friends. Get a flu shot. Wear a mask and stay safe!
Have a Happy Thanksgiving!
About Karin Esposito, MD, PhD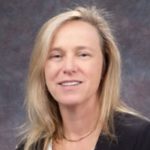 Dr. Karin Esposito is an experienced psychiatrist with a PhD in biochemistry and molecular biology, as well as an MD, from the University of Miami. She completed her residency training in psychiatry at Jackson Memorial Hospital and her research interests have spanned basic and clinical research, education research, and hospital-based quality improvement research at various times in her career. Dr. Esposito's current role is within the Roseman University College of Medicine as the Senior Executive Dean for Academic and Student Affairs. Learn more about Dr. Esposito and how the Roseman University College of Medicine plans to deliver an inclusive and collaborative environment for innovative learning, healthcare and research.