Roseman University served as a COVID-19 Vaccination site at both its Henderson and Summerlin campuses and via various community-based events administering more than 11,000 doses of the COVID-19 vaccines to our community members. We are continuing our efforts through Roseman's College of Medicine Mobile Vaccination Van in order to ensure equitable vaccine access to residents in high-risk communities in Southern Nevada. The mobile van is also a solution to help eliminate barriers to getting the vaccine, such as transportation and childcare.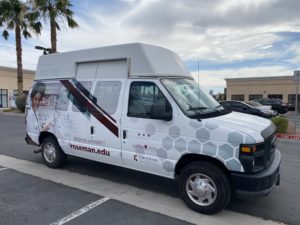 We are working alongside our community partners to target these communities. To date, the van has teamed up with The City of Las Vegas, Civica Academy, Futuro Academy, Leadership in Training (LIT), and Vintage at Seven Hills for pop-up vaccine clinics. These pop-up clinics have been located in North Las Vegas, East Las Vegas, and Henderson. At the pop-up clinic, nurse practitioners, and other healthcare professionals administer the COVID-19 vaccine to young people aged 12 and up, parents, seniors, and the general public. 
The College of Medicine is looking forward to continuing its grassroots outreach efforts by working with community partners to make sure high-risk communities have fair and easy access to the COVID-19 vaccine.
Media Coverage
Fox Las Vegas (KVVU)
Mobile Vaccine Clinic Rolls Out in Vegas
June 22, 2021
ABC Las Vegas (KTNV)
Roseman University Mobile Vaccination Van
June 22, 2021
Fox Las Vegas (KVVU)
New Mobile COVID-19 Vaccination Van to Launch
June 23, 2021
Article by Vanessa Maniago & Sheyla Pierre