Authored by Jessie Parker, PharmD Candidate Class of 2024
October is a month of spooky fun with parties, trick or treating, and eating candy with your friends and family! It is important to have conversations about safety, as well as talk about being able to distinguish candy and medications, since the two can look (and occasionally taste) similar. Whether you choose trick, or treat, it's important to review your Halloween safety.
Trick-or-Treat Safety
Tips for safety: 
Eat dinner before going out and encourage children to wait until they are home to try any of their candy. 
Be sure children know to look for obvious changes to the packaging of their treats, which could include discoloration, tears in the wrappers, or small holes in packaging.
If it looks suspicious: throw it out! 
Be aware of allergies. Check ingredients if you have to.
Talk to your kids about being able to decline treats, especially if they are homemade from strangers.
Candy versus Medication 
The differences between medications and candies can be hard to recognize. Some examples are shown below: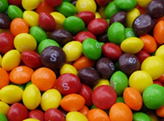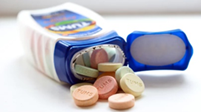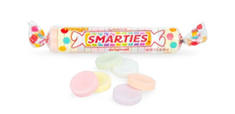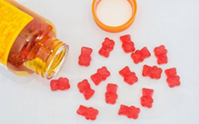 With the increase of medical cannabis being available as a form of treatment for pain, anxiety and other conditions, it's even more important to be informed. Edible cannabis often comes in the form of sweetened gummies and candies.
Equally important is the need to discuss illicit drugs. An example is the currently popular rainbow fentanyl that looks much like Sweetarts.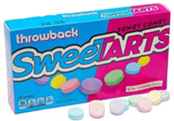 Medication Safety for Kids
Medication is a means to ease symptoms of being sick and help cure disease, for both temporary and chronic illnesses. It is only useful if given in the correct dosage, for the correct ailment, and the correct person for whom it is intended. Medication can harm if taken incorrectly or by someone who doesn't need it . It is recommended that you do not refer to medication as candy to children, as that can cause confusion and safety issues. It's important to stress that medications should only be taken if needed, for the person they are prescribed for, and with the help of a trusted adult. This is a great opportunity to practice reading and showing children prescriptions should only be taken if they have their name on them and over-the-counter medications with parental permission, if needed.
Discuss scenarios with children to ensure they know how to get help if an emergency occurs and how to identify that an emergency is occurring. Possible scenarios to role play include:
getting an adult if a sibling cannot breathe,
yelling for help if someone collapses
calling 911 if an adult is unable to help them
It's also a good idea for them to practice learning their name, phone number, and address. 
Medication Safety for Parents
There are things parents can do to assist in medication safety, including ensuring proper storage and dosage. Medications should be stored in cool, dry areas, out of sight and out of reach of children or pets. Storing them in your bathroom is actually a bad idea, as moisture in the air can damage the pills and affect the usefulness of medications. Lids should be tightly closed on all over the counter and prescription bottles. Be sure to use the measuring tools included when you purchase  children's liquid medications rather than spoons from home. This will provide the highest accuracy and be the most beneficial.
If you are uncertain about dosages for any age group, talk to a doctor or pharmacist.
Post  the phone number for Poison Control, 1-800-222-1222 on your fridge, in case  someone around you eats, breathes or touches something that could be toxic, such as cleaning supplies.
If household or family members have opioid (pain) medications, it is recommended to also have Naloxone. This medication works as an emergency method to buy time until medical help arrives, similar to how you use an epi-pen for allergic reactions. Remember never to share pain medications with others in your family as they can be highly addictive.
It is most important to revisit these safety precautions as your children age and have age appropriate conversations with them.
Have a happy and safe Halloween!
Citations
Be safe this Halloween: Medication can easily be mistaken for candy. Nebraska Medical Association (NMA) – Advocating for Physicians & Patients. https://www.nebmed.org/about/news/be-safe-halloween-medication-can-easily-be-mistaken-candy. Published October 16, 2019. Accessed October 2, 2022.
Center for Food Safety and Applied Nutrition. Halloween food safety tips for parents. U.S. Food and Drug Administration. https://www.fda.gov/food/buy-store-serve-safe-food/halloween-food-safety-tips-parents. Accessed October 2, 2022.
DEA warns of brightly-colored fentanyl used to target young Americans. DEA. https://www.dea.gov/press-releases/2022/08/30/dea-warns-brightly-colored-fentanyl-used-target-young-americans. Accessed October 2, 2022.
Gimelli A, Deshpande A, Magana J, Moulin A. Cannabis in homes with children: A survey on use, storage, and attitudes. Western Journal of Emergency Medicine. 2021;22(5):1146-1149. doi:10.5811/westjem.2021.5.49057
Gummy Vitamins.; 2021. https://www.scripps.org/news_items/7270-do-gummy-vitamins-really-work. Accessed October 2, 2022.
Haribo Gummy Bears. https://www.orientaltrading.com/haribo-gummi-bears-mini-packs-37-pc–a2-_K2167.fltr. Accessed October 2, 2022.
Harling D. Skittles.; 2022. https://www.delish.com/food-news/a40640254/skittles-sued-over-unsafe-levels-titanium-dioxide/. . Accessed October 2, 2022.
Kirkwood M. Low Dose Aspirin Bottle and Tablets.; 2022. from https://newsroom.heart.org/news/new-uspstf-guidance-continue-to-take-low-dose-aspirin-if-you-have-a-history-of-heart-attack-afib-stroke-or-vascular-stenting. Accessed October 2, 2022.
Protect your children: Store & use medicines safely. Centers for Disease Control and Prevention. https://www.cdc.gov/patientsafety/features/safe-medicine-children.html. Published February 28, 2020. Accessed October 2, 2022.
Put your medicines up and away and out of sight. Centers for Disease Control and Prevention. https://www.cdc.gov/patientsafety/features/medication-storage.html. Published June 10, 2020. Accessed October 2, 2022.
Smarties. https://www.mastgeneralstore.com/smarties/jumbo-smarties-candy-1-lb-18113. Accessed October 2, 2022.
Sweetarts. https://www.candywarehouse.com/sweetarts-tangy-candy-5-ounce-packs-10-piece-box. Accessed October 2, 2022.
Wilson J. Tums.; 2022. https://www.delish.com/food-news/a40640254/skittles-sued-over-unsafe-levels-titanium-dioxide. Accessed October 2, 2022.