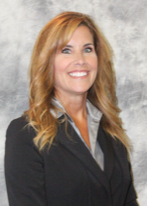 Michele Brock, RN, BSN, MSN, AGNP-C joins Roseman Medical Group from Michigan. She grew up in a town of 1,200 in southwest Michigan, where her parents were factory workers by day and farmers by nights and weekends. They raised hay, strawberries, chickens and cows, with some horses and donkeys in the mix, along with quite a few dogs. "My parents were great educators. You be kind. You don't steal. You don't cheat. You love each other. You work hard. You wanna eat," she adds in a testament to the grueling culture of agriculture, "you get up."
When Michele was in her early twenties, her mom passed away due to a contaminated needle used in a cortisone injection. She'd been sick throughout Michele's childhood, struggling with inflamed joints and using a wheelchair. Michele says her death acted as a personal motivator and driver.
Michele earned her Associate's Degree in Science, and another in Science and Nursing, from a junior college in Michigan. While she was spending time with a friend whose son was in the pediatric ward, she noticed a nurse and was "enamored with what she was doing – her grace, her kindness to the baby." In turn, the nurse told her, "You should go to school and become a nurse. We need more nurses."
Michele went on to get her bachelor's and master's degrees online while working full-time. She credits the accessibility of online learning as a monumental reason she was able to complete her programs. She's always been passionate about teaching and is excited to work with Roseman's patients, students, and providers alike. "As nurses, we're supposed to be compassionate and kind to the patients," she says, "so why don't we bring that over to the people that we're teaching?"
People matter a lot to Michele. She intentionally chose to focus on geriatric care after studying under a gerontologist who lovingly took time to get to know each patient and make care decisions based on their unique situations, no matter how busy his schedule. "He acted like they were the only thing that mattered in that moment," she recalls. Now, she brings that patience, consideration, and respect to her work today. "Older people have a voice that can be muffled, and they have so much to offer," she says. "Not only are they great historians, but we should listen to them for their care options. What's driving them and why? We can find that out by listening." She believes comprehensive understanding leads to better patient care. That understanding can only come from taking the time to get to know individual situations and needs.
Rural health is especially invigorating for Michele. In Michigan, she serviced four to five different villages, serving people ages 18 to 96. "I feel like it's not my job. It's my calling," she says. She's looking forward to implementing her experiences, knowledge and compassion at Roseman. "It felt like a family," she reflects. "Everybody was warm and kind, and this is how teaching should be."
Welcome to RMG, Michele!
Michele will start mid-October and will be accepting new patients shortly thereafter. Please call RMG at (702) 463-4040.